Ohl Style Beef Jerky
WE TAKE PRIDE IN SELECTING THE FINEST MEATS, ALL HAND-SLICED ON SITE.
John started his dream of making the best jerky in Texas when he was in fifth grade. For years he worked tirelessly until he perfected his meat and started selling it to his friends at the high school he attended. His jerky started to grow in popularity and from there he started the business he has today.
Here at Ohl Style Beef Jerky, we take pride in selecting the finest meats, all Hand-Sliced on site. We marinate it over night with our special blend of ingredients for that delectable flavor. The even distribution of our marinating process is what makes our jerky mouth-watering. LEARN MORE
We never use liquid artificial smoke flavorings!!!! Visit our list of jerky products and select the flavor that appeals to you. All meats are Cryovac sealed for freshness and safe shipping.
VIEW MORE
OUR BEEF JERKY & BBQ IS 100% GRADE A BEEF
We offer the finest Pecan Smoked Jerky vacuum sealed to preserve the flavor until it is ready to eat. Our beef jerky is sealed with a Texas Inspection and comes in different size packages ranging from 8 oz to 1 lb. We serve our customers only the best beef jerky in Texas. A family owned business nestled in southern Texas where beef jerky was born. Our Owner John Ohl began with a recipe for creating the best Pecan Smoked beef jerky in Texas. We are proud of our vast experience in our beef jerky & BBQ products and in serving our community. We look forward to serving you the finest beef jerky & BBQ and our staff is waiting to serve you.
Order Online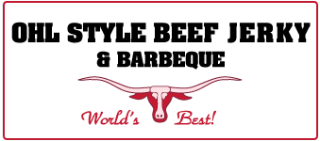 Order Online Now!!!
We also have HOT & REGULAR TURKEY JERKY, DRY SAUSAGE AND BEEF STICKS. Prices apply to USA orders only. Outside of country rates are subject to change.
Orders up to 1 lb. $12.95
Orders from over 1 lb. to 4 lbs. $17.95
Orders over 4 lbs. up to 8 lbs. $23.95
Orders over 8 lbs. up to 9 lbs. $36.95
Orders over 9 lbs. up to 12 lbs. $46.95
Orders over 12 lbs. up to 18 lbs. $88.95
Orders over 18 lbs. and up $101.95